Indian Birds – Painted Stork
The painted stork is a large wader in the stork family. It is found in the wetlands of the plains of tropical Asia south of the Himalayas in the Indian Subcontinent and extending into Southeast Asia. Their distinctive pink tertial feathers of the adults give them their name.
They forage in flocks in shallow waters along rivers or lakes.
As they wade along they also stir the water with their feet to flush hiding fish. They nest colonially in trees, often along with other waterbirds.
The only sounds they produce are weak moans or bill clattering at the nest.
They are not migratory and only make short-distance movements in some parts of their range in response to changes in weather or food availability or for breeding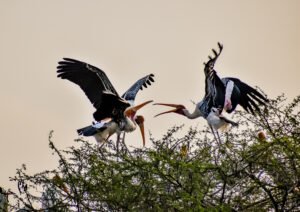 Facts:
Scientific name: Mycteria leucocephala
Mass: 3.2 kg (Adult) Encyclopedia of Life
Length: 93 – 100 cm (Adult)
Higher classification: Mycteria
Conservation status: Near Threatened (Population decreasing) Encyclopedia of Life
Rank: Species
My first encounter of this beautiful birds is in a lake where it was sharing space with Pelicans, Black Headed Ibis, cormorants etc.
If you want to see them in action, watch video in youtube here
When this mighty birds fly its wing span goes for 5-6 feets. And makes strong flapping sounds.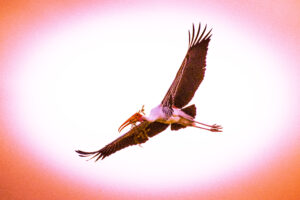 Painted storks feed in groups in shallow wetlands, crop fields, and irrigation canals. and feeds mainly on small fish which they sense by touch while slowly sweeping their half-open bill from side to side while it held submerged. Walks very slowly and also disturb the water with their feet to flush fish. They also take frogs and the occasional snake
Reference:
@wikipedia
Follow me!