Pelicans:
Pelicans are larger water birds that carry a large pouch under its beak. It has webbed feet and toes. They are large birds of prey with wingspan and go up to 5 feet.
They are a genus of large water birds that make up the family Pelecanidae. Typically characterized by a long beak and a large throat pouch used for catching prey and draining water from the scooped-up contents before swallowing.
The spot-billed pelican (Pelecanus philippensis) or grey pelican, is a member of the pelican family.
It breeds in southern Asia from southern Pakistan across India east to Indonesia. It is a bird of large inland and coastal waters, especially large lakes.
At a distance, they are difficult to differentiate from other pelicans in the region although it is smaller at close range the spots on the upper mandible, the lack of bright colors, and the greyer plumage are distinctive.
In some areas, these birds nest in large colonies close to human habitations.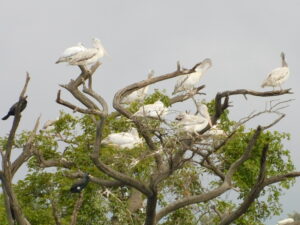 Facts:
Scientific name: Pelecanus
Lifespan: 15 – 25 years (In the wild)
Family: Pelecanidae; Rafinesque, 1815
Wingspan: 1.8 – 3.5 m (Large Adult)
Pelicans mostly feed on fishes and there are many incidents where they are seen eating other small birds like pigeons.
There are eight living species –  The eight living pelican species were traditionally divided into two groups,
Containing four ground-nesters with mainly white adult plumage (Australian, Dalmatian, great white, and American white pelican),
Containing four grey- or brown-plumaged species which nest preferentially either in trees (pink-backed, spot-billed and brown pelicans) or on sea rocks (Peruvian pelican)
1. American white pelican
2. Brown Pelican
3. Peruvian Pelican
4. Great white pelican
5. Australian Pelican
6. Pink-backed pelican
7. Dalmatian pelicans
8. Spot Billed Pelicans
In India there are 3 species which are recorded:
Great White Pelican
Spot-Billed pelican
Dalmatian Pelican
I have spotted pelicans in Madinaguda Lake, Hyderabad, and Jakkur Lake, Bangalore so far.
Pelican swimming and looking for its meal
Reference: @wikipedia
Follow me!